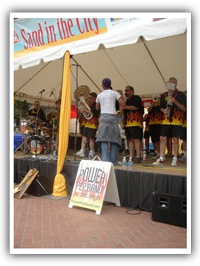 Sands in the City
Watch the Power Pep Band lend some sound to go with the sand! Haven't knocked down a sand sculpture yet, but we trying!  This annual event in Portland's living room is one of our favorites!
Zoo Lights!
Oh, it's beginning to look a lot like a rock and roll Christmas! Take a look at PPB playing some not so traditional holiday songs!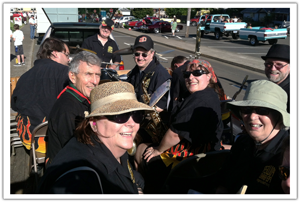 Sheridan Days!
It's always an adventure when the Power Pep Band goes on a road trip! It's even more of an adventure in this town down in the Willamette Valley on the way to the coast.
Scream at the Beach
For those of you that like your music with a touch of the macabre, take a listen to this Power Pep Band standard!
Portland State University Athletics - Go Vikings!
For the past three years we've played at the home football and basketball games to give the Vikings a little Pep!  Starting in the fall of 2012, PSU is developing their own athletic bands and we're so happy to have been a part of getting music back into the games!  Have a listen to this clip!
Oaks Park!
If you show up to the Fourth of July facilities at America's oldest continuously operating amusement park you've probably seen the PPB performing for Portland's families!
National Night Out
Take a look at the Power Pep Band at Hayhurst's National Night Out celebration.  Besides ants, what else belongs at a picnic?
Sample Setlist
Midnight Hour
Everybody's Everything
Born to be Wild
Travelin' Band
Gone Daddy Gone
Land of 1000 Dances
Love Shack
Heartbreaker
Rebel Yell
Come Out and Play
Holiday
Ain't Nothin' Wrong with That
Paranoid
Pretty Fly
Dirty Deeds
Enter Sandman
Monkey Wrench
The Hand that Feeds
Poker Face
Rock and Roll All Night
Beer Barrel
Evil Ways
Five O'clock World
Forget You
Great Balls of Fire
Stray Cat Strut
Johnny B. Goode
From Me to You
Proud Mary
Walk Like an Egyptian
Freeze Frame
Vehicle
We're an American Band
Fat Bottom