Booking Power Pep Band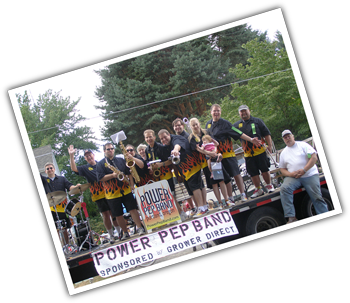 The Power Pep Band provides a fun, high energy, interactive show that performs music that makes people move and feel good. One of our unique features is our ability to adapt to any venue and we will mold our show to fit your requests. We are not restricted by a lack of power. We provide our own or as we like to say "Power Chords Without the Power Cord" We are able to provide over two hours of music with a music list that consists of hits from the 50's to the present and a few classics thrown in for good measure. We strive to include the audience in our performances because we want the audience to have as much fun as we are.
The Power Pep Band draws its membership from the great college athletic bands across the nation. We blend this experience and intensity with our own sense of excitement to bring you what we call the 'Power That Rocks.' The band has delivered the 'Power That Rocks' to fairs, festivals, corporate events, parties, charitable events and marathons throughout the Pacific Northwest and beyond for the past 11 years.
Please contact our marketing group to see how we can to add to your event. We have marketing packets and a promotional DVD available at your request.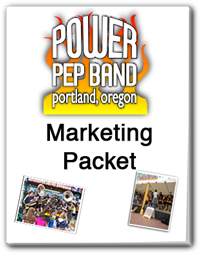 Marketing@powerpepband.com
Marketing Director: Mike Strejc – 503-704-9142

Contacts:
Hire the Band: marketing@powerpepband.com
Join the Band: personnel@powerpepband.com


Check us out on Facebook!


Snailmail: Power Pep Band
3809 SE King Road
Milwaukie, OR 97222